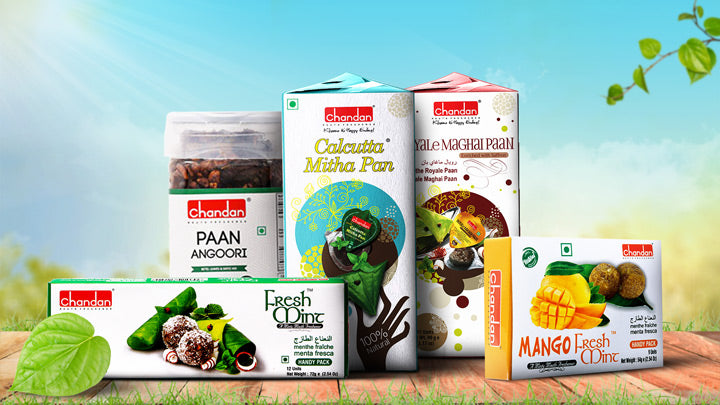 Explore 5 Paan Flavors That You've Never Tasted Before!
After dry mukhwas, paan is the most sought-after mouth freshener. Not only does it act as a palate cleanser, but it also has many therapeutic benefits. Gone are the days when paan was only considered to be consumed by the elderly generation. Now, you will come across endless possibilities of flavours with various permutations and combinations at your disposal. In India, paan has cultural and religious significance. However, it has gained popularity across the globe because of its unique flavours and quick refreshment.
As we already know, paan is typically made by stuffing betel leaves with a paste made of slaked lime, spices like cardamom and fennel, as well as additional fillings such as grated coconut, fruits, and nuts. The leaves are then folded into a triangle and secured with a toothpick or clove. The paan available nowadays is edible, so you don't have to spit it out as you would traditionally do. 
Are you ready to enjoy all the nutrients and savour the burst of flavours? Check out these 5 paan flavours offered by Chandanmukhwas that are a must-try option.
Discover the Top 5 Unique Paan Flavours on Chandanmukhwas
Chandanmukhwas has earned a reputation for providing the best mouth fresheners since its inception. Moreover, they have succeeded in experimenting with various paan flavours, which are now exclusively available on their website.
From the classic Royal Maghai to the delectable Calcutta Mitha Paan, Chandanmukhwas has something to offer for every taste bud. They have been pushing the boundaries of traditional paan-making by introducing innovative flavours like mango, mint, and angoori, to name a few.
Each bite of the paan flavours delivers an explosion of taste and nutrition because they use premium ingredients. The paan is expertly and carefully made, and both the presentation and the flavour are exceptional.
Therefore, Chandanmukhwas has got you covered with its range of paan flavours, whether you are looking for an exciting and unique snack to share with friends or a refreshing mouth freshener to enjoy after a meal. Visit the website now to experience a brand-new paan experience!
Flavour 1: Royal Maghai Paan
Get ready to indulge in a burst of flavour and nutrition with Chandanmukhwas' Royal Maghai-flavoured paan! These saffron-enriched delights are perfect as an appetiser or post-meal snack and will leave your taste buds tantalised. Made with all-natural ingredients such as cardamom, candied papaya, fennel seeds, betel leaves, and candied fennel seeds, this paan is free of preservatives, fake colours, betel nuts, tobacco, and preservatives.
The paan is carefully crafted with a combination of ingredients such as fennel seeds, dried rose petals, sugar, and gulkand, which acts like a sweet rose petal jam. Giving it a rich, aromatic flavour that will leave you wanting more. Experience the best of the best, head over to Chandanmukhwas' website to buy this paan mukhwas online. Don't miss out on the chance to savour the unique taste of this paan!
Buy now: Link
Flavour 2: Mango Mint Paan 
If you're a mango lover, get ready to indulge in a unique and delightful experience with Chandanmukhwas' mango mint paan! This mouth freshener is the perfect blend of the richness of mango and the coolness of mint, resulting in a sweet and tangy taste that is simply irresistible.
This paan by Chandanmukhwas is crafted with premium-quality ingredients. The filling is made of sugar, dried mint leaves, and dried mango powder, while cardamom, cinnamon, and cloves are added to give it a warm, spicy flavour. Each bite of this mouthwash offers a distinctive flavour combination that will leave you amazed. So place your order right away, and savour the best mint paan online on Chandanmukhwas website! Order now to treat your taste buds to an exciting new adventure!

Buy now: Link
Flavour 3: Calcutta Mitha Paan
Get ready to indulge in the heavenly taste of Calcutta Paan with an irresistible rose flavour that will leave you craving for more! If you're a paan lover, you'll surely adore this mouthwatering blend crafted with the finest ingredients, including betel leaves, sweetened rose petal paste, candied papaya, and traditional cardamom. The addition of fennel seeds not only makes it a perfect digestive aid but also gives it an exotic twist!
Moreover, the presentation of mitha paan is a treat for the eyes, bursting with flavours and intricate layers that will leave you mesmerised. If you've always been a fan of meetha paan, then this unique blend is a must-try! So why wait? Get your hands on one today and get ready for a tantalising experience that will leave you wanting more!

Buy now: Link
Flavour 4: Fresh Mint Paan 
Looking for a delicious and refreshing way to beat the heat? Look no further than this paan! This little treat is like a burst of coolness in your mouth, filled with all-natural ingredients that are packed with flavour and nutrition.
Our secret recipe combines the crispness of betel leaves with the sweetness of dry dates, candied papaya, and rose petal paste. All of these ingredients come together to create a delightful and delicious treat that is perfect for any time of day.
But what really sets our Fresh Mint Paan apart is the refreshing mint flavour. With every bite, you'll feel a wave of cooling sensations that will refresh your taste buds and invigorate your senses. So why wait? Treat yourself to a little slice of heaven with our chandan paan mukhwas. Head over to our website or visit one of our stores today and experience the goodness for yourself!
Buy now: Link
Flavour 5: Angoori Paan
Relish the divine flavour. Pan Angoori is a delicious combination of healthy ingredients that will tantalise your taste buds like never before. This pan has a special blend of fennel seeds and Indian gooseberries that may have health advantages that may improve your general well-being and strengthen your immunity.
Angoori paan is a unique and delicious variety of paan, distinguished by its fruity flavour and texture. The tiny particles of finely chopped grapes add a rich and fruity flavour to the filling, while ingredients like gulkand, sugar, and spices like cardamom and saffron enhance the flavour profile even further.

The tempting blend of betel leaves, sweetened rose petal paste, and other nutritious ingredients make our Pan Angoori a must-have treat. The infusion of rose flavouring elevates the taste even further, providing you with a refined flavour, fresh breath, and improved digestion.

Ready to try this delightful treat? Head over to the Chandanmukhwas website, which specialises in offering a vast assortment of flavour-infused paan and traditional Indian mouth fresheners. Get your hands on our Pan Angoori today and experience a burst of flavours.
Buy now: Link
Conclusion 
Get ready to experience an explosion of flavours and nourishment with Chandanmukhwas' five unique flavours of paan, each with different therapeutic benefits that are sure to satisfy every taste bud. Our collection includes the Maghai paan, the mouth-watering Calcutta Mitha Paan, the irresistible Mango Mint Paan, Pan angoori, and the refreshing Fresh Mint Paan.
If you're looking for an unforgettable flavour that will entice your taste buds, then these paans are a must-try, that will leave you wanting more. As we already know, paan has been a time-honoured tradition that has been associated with social and religious occasions for centuries. 
Even today, people of all ages continue to enjoy paan for its cultural significance and therapeutic benefits. And now, with Chandanmukhwas website, you can easily order our unique and flavorful paan varieties from the comfort of your own home. So, what are you waiting for? Head over to our website and experience the goodness of our delicious and unique paan flavours today!