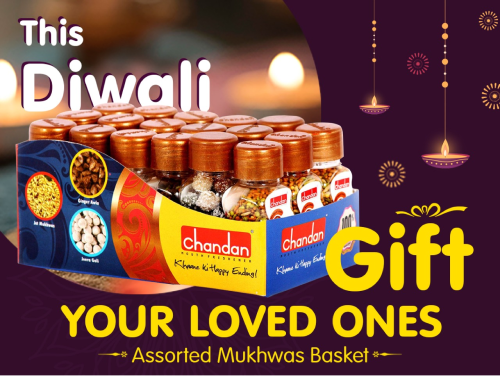 This Diwali gift your loved ones assorted mukhwas basket - Chandan mukhwas
Diwali is right around the corner, and we're sure you must have started searching for the Best Diwali Gifts for your loved ones. So Let's set aside all fancy terms and jump right in. We've all played the passing the parcel game with our loved ones with a variety of Diwali Gift Hampers like Dry Fruits, Random Chocolates, and the Dinner Set.
What if your relatives can guess what's inside the box without even opening it? We're done receiving Son Papdi for Diwali Every Single Year!

If you wish to stand out among your loved ones and gift something that the entire family will love, you've come to the right place! With our Diwali mukhwas hampers for the year 2021, your hunt for Diwali Gifts has finally come to an end. 
This year's Diwali will also be very different from every other. Work-from-home and constant hand sanitization has become the new norm, why not choose hampers that are fun, spontaneous and tasty! Thoughtful, wouldn't it be? 
Look no further as the 6 in 1 mouth freshener royal pack is an exclusive and specially designed gift hamper that includes the signature flavours of Chandan Mukhwas like - Elaichi Sauf, Churi Sauf, Ice Cream Mukhwas, Jet Mukhwas, Gulab Mukhwas and Softy Tukda. (add links). This 6 in One Combo is perfect to gift anyone with a taste for variety.
Diwali gift ideas for the family
With the advent of modernity induced lifestyles, our worries have only increased for the well being and health of our family! So why not opt-in for a Diwali hamper that not only brings a smile but also is ultra-healthy for our loved ones. 
If you're looking for something super elaborate and extravagant, you may opt-in for the Nature's Treat Healthy Basket. It is a unique blend made exclusively, this Diwali with - Berry Treat, 7 Seeds mix, and Vita Nutri Ultra. This healthy, elegant makes for a well-thought Diwali present. 
Traditional Diwali hamper ideas
Looking for something traditional yet fun? A thoughtful gift is an ideal way to express your love to your family. Isn't it? Don't waste any time further, because Diwali is almost here! Plan and finalize the Diwali gifts today and make this socially distant Diwali celebration special, personal and unique with a touch of tradition. 
This Assorted Churan Pack is perfect for it. This assorted box contains - Jeera Goli, Ginger Awla, Cocktail Thunder, Olympic mukhwas, Jet Mukhwas and Super Orange. A total of 18 bottles, offering something unique for every unique member of the family.


No Diwali is complete without a bundle of sweetness. Instead of opting for traditional Indian Sweets like everyone, stand out and add a personalised touch to your Diwali presents. 
Elevate your Diwali game by including This rose flavoured Calcutta Paan Tower. It is a heavenly delight for all paan lovers. This one comes in a special blend of rose petal paste, candied papaya, cardamom pods and betel leaves. After all, who does not like paan?